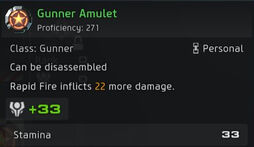 An
amulet
is a class-specific piece of equipment which enhances one or more abilities. Amulet slots were added to Skyforge during CBT and were accessable to players in Early Access. There are four amulet slots and each class can equip their own class specific amulets as the player loots them once the slots are unlocked. Changing class (provided the player has it unlocked) and equipping the amulet (also assuming the slot is unlocked) will remove it from inventory which can help with bag space even if players are not currently working on that class. (Also applies to weapons).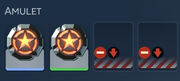 The first Amulet slot is unlocked when the player loots their first amulet, which occurs around 2900-3400 prestige. Upon receiving their first amulet, players will also begin randomly looting Ether Crystals from various monsters throughout the game. A new amulet slot can be purchased by collecting 100 of these crystals and double-clicking on them in the inventory.         
Types of Amulets
Edit
Ad blocker interference detected!
Wikia is a free-to-use site that makes money from advertising. We have a modified experience for viewers using ad blockers

Wikia is not accessible if you've made further modifications. Remove the custom ad blocker rule(s) and the page will load as expected.