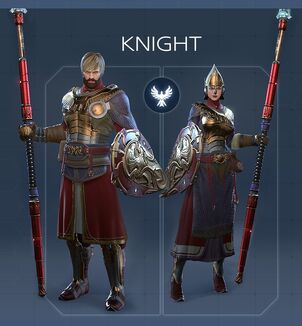 Description

Edit
Role:
Tank
A knight is capable of withstanding the onslaught of numerous enemies, diverting their attention from less protected allies. Armed with shield and spear, they are able to not only block incoming attacks, but to also deliver crushing blows in return.
The Knight uses a Spear as their weapon, which they use to deal crushing blows in battle.
Large Shield
Edit
The Knight carries Large Shield in their offhand which is used to block incoming attacks.
Abilities

Edit
Ad blocker interference detected!
Wikia is a free-to-use site that makes money from advertising. We have a modified experience for viewers using ad blockers

Wikia is not accessible if you've made further modifications. Remove the custom ad blocker rule(s) and the page will load as expected.