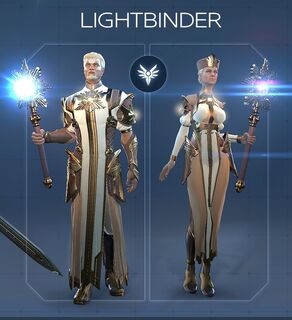 Description

Edit
Role:
Support
Harnessing the Power of Light, a lightbinder offer support by increasing their allies' damage and shielding them from incoming damage. When they direct their white hot anger at enemies, they can disrupt their formations and inflict great damage from afar.
A lightbinder uses a Pommel as their main weapon, which is used to harness the power of light.
By adding a Rod to the handle, a lightbinder can enhance their pommel. The rod is placed in the additional weapon slot.
Abilities and Talents

Edit
Ad blocker interference detected!
Wikia is a free-to-use site that makes money from advertising. We have a modified experience for viewers using ad blockers

Wikia is not accessible if you've made further modifications. Remove the custom ad blocker rule(s) and the page will load as expected.