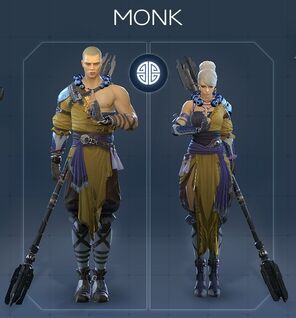 Description

Edit
Role:
Damage
Being of a martial order, a monk has mastered the discipline of body and mind. Wielding their staff,  a monk fight using several special stances, enabling them to perform dizzying acrobatic feats and deliver powerful blows against their enemies. Each stance is tailored to provide different advantages, and a monk will want to switch between them depending on what they are fighting. Earth stance is best suited when fighting a single foe, while fire stance is a better option when fighting several enemies. Wind stance provides maximum agility, allowing a monk to mitigate damage.
Weightstone
Edit
The Monk's main weapon is the Weightstone with clubs, blades, or spikes at both ends. 
Combat Pole
Edit
In their additional weapon slot the Monk has equipped a Combat Pole.
Abilities and Talents

Edit
Ad blocker interference detected!
Wikia is a free-to-use site that makes money from advertising. We have a modified experience for viewers using ad blockers

Wikia is not accessible if you've made further modifications. Remove the custom ad blocker rule(s) and the page will load as expected.