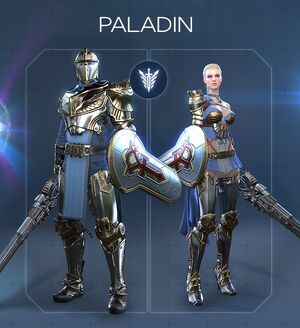 Description

Edit
Role:
Tank
A paladin is a fearless tank with a wide range of offensive and defensive skills. They can be found in the heart of battle, crushing foes and protecting nearby allies. A fierce fighter up close, they call upon their Holy Powers to shield allies and engage enemies from afar.
The Paladin uses a Sword as their main weapon, which they use to deal vicious strikes in battle.
The Paladin has a Shield in their offhand which is used for defending against their enemies.
Abilities and Talents

Edit
Ad blocker interference detected!
Wikia is a free-to-use site that makes money from advertising. We have a modified experience for viewers using ad blockers

Wikia is not accessible if you've made further modifications. Remove the custom ad blocker rule(s) and the page will load as expected.